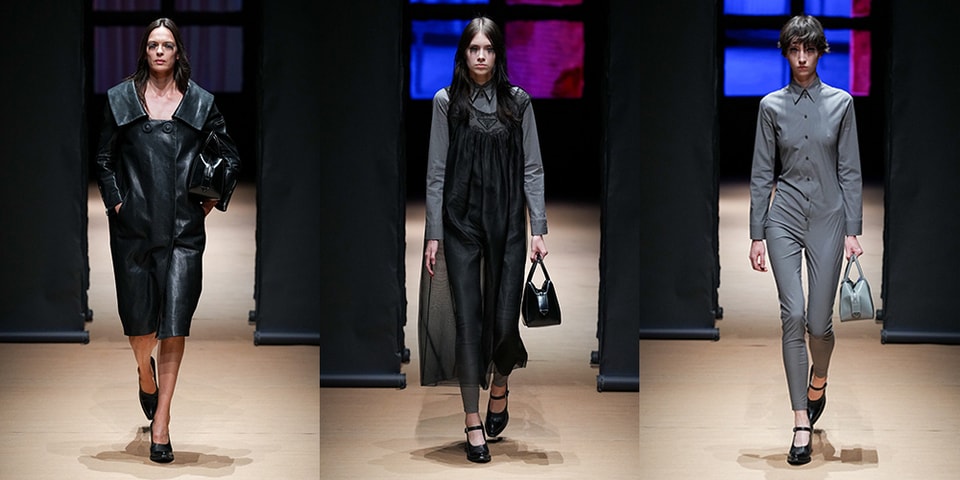 Prada SS23 Womenswear show at Milan Fashion Week
Raf Simons and Miuccia Prada put the power of choice in the hands of the wearer for Prada's Spring/Summer 2023 men's collection. Picking up on Fondazione Prada, the room was covered in brown paper and covered in scrollwork, and the same decor – only much darker in theme and tone – was held for Prada's SS23 womenswear show.
Submerged in black, the windows illuminated with fabric-like visuals and close-up detailing of the gazes evoked thoughts of voyeurism, creating a cinematic feel. Made in collaboration with director Nicolas Winding Refn, the "Touch of Crude" project revolves around Prada's SS23 show, "Domestic Voyeurism", and even begins outside of the show as the invitations had the same theme – small boxes black with a peephole, revealing the location within, once again denoting something secret and illusory.
With this, the season is designed to be innocent, raw and unfiltered, looking at domesticity from the outside in. This was evident from the moment the models stepped onto the dimly lit runway, which was divided into rooms like the men's presentation.
Prada's triangular plaque tagged the necks of tailored gray trench coats and one-pieces, before a slew of colors appeared. Triangular bags are lined this time, served in vibrant dusty pink hues, while ombre-toned silks and satins move across the body, with rips in the fabric to reveal the leg in a very un-Prada way. – this being deliberately unpolished.
It's tougher than before, but embellished with formal cuts. The men's bomber jackets of the previous season are imitated by an asymmetrical blazer that bulges on the arms and back. The dresses are architectural, playing on a sense of illusions and what you're allowed to see and not see, as the sheer panels ride high on the leg before transitioning into a knit. Here, domesticity is introduced, as dresses look like babydolls and other dresses usher in a shade of moody business wear.
Overlay effects are applied to coats and robes, shielding what's underneath – and thus commenting on the voyeurism we mentioned earlier. It was weird, but only until a leather moment happened, seeing fitted jackets in skinny fits. A tunic fell to the knee, while A-line dresses were sci-fi in their cuts. With this, Prada introduces the alternate reality side of domestic life, one that falls somewhere between The Jetsons and a toned down version of Fran Fine's looks in The nanny with its 90s futurism.
For this reason, the collection was "very Raf". Leather unipieces were space-age and clinical, especially when paired with coats that featured bows at the back that caught the breeze of walking models. It was the attire of tomorrow's businesswomen, placed in a distorted reality by Raf to show a strange side of domestic life, a day-to-night wardrobe injected with a few subverted moments of power and sex. .
Prada's SS23 womenswear show can be seen in the gallery and video above. Stay tuned to Hypebeast for more SS23 Milan Fashion Week content.
Elsewhere, Kim Jones showed off her latest collection for Fendi yesterday.